Smartphone solution based on Marvell PXA 920 single chip
September 20 10:14:22, 2020
The key to the development of TD-SCDMA mobile communication lies in the terminal, which has formed a consensus in the industry. A good mobile phone needs a good "core". Where is it? In short, nothing is integrated, stable performance, low power consumption and reasonable price. In fact, mobile phone manufacturers have the most say on how to judge the "core". Mobile phone manufacturers, especially brand manufacturers, have more experience in product performance stability and universality than chip platform manufacturers and even operators. They fully understand what kind of chips they need, and they also conduct extensive testing of their platforms and end products, even beyond the scope of testing specified by China Mobile. China Mobile's warehousing test has accumulated with the experience in recent years. With the continuous development of TD technology, its testing projects have been continuously enriched and improved, and the credibility of test results is naturally self-evident.

At the end of last month, ASUS Mobile and China Mobile jointly launched a smart phone using the Marvell PXA 920 chip. I believe that in the near future, a large number of TD smartphone models using the same chip will appear on the market. Marvell has been designing the PXA 920 chip since three years ago, and the first batch of films after half a year has entered mass production in January this year.

The Marvell PXA 920 is a highly integrated system-on-a-chip that is compatible with the ARM instruction set and is the first dual-mode (TD/EDGE) single-mode (Modem & AP) solution. The PXA 920 processor includes a powerful application processor and communication processor (wireless modem), which together with RF devices, intelligent power management chip, WiFi, Bluetooth, FM FM, etc. constitute a TD smartphone communication platform. The PXA 920 processor's TD smartphone can be said to be a four-chip machine, including a baseband chip, a wireless transceiver chip and an intelligent power management chip, plus a Marvell WiFi/Bluetooth/FM chip. This high level of integration can help mobile phones to be thin and stylish.

The PXA 920 chip is a highly integrated 3G platform for multimedia smartphones with processing speeds up to 1 GHz. Supports 3G standard TD-SCDMA standard, high-speed upload and download packet access (HSxPA) through high-performance, low-power application processor technology. Combined with 2G, 2.5G GSM, EDGE communication functions, it provides seamless wireless access, enabling image, HD video, 3D graphics acceleration, bringing Internet browsing, instant video chat, personal music access, online games and A new end-user experience for other popular mobile apps. Because of this, this single-chip solution is not only a new star in the future, but also a newcomer to the audience.

This article focuses on the features of the TD-SCDMA single-chip PXA920 smartphone solution.

First, high performance

The CPU processor uses Sheeva CPU core technology and supports 800-1000MHz processing speed. Built-in SRAM and BootROM. The processor guarantees mobile security through secure boot, key protection, and secure JTAG restart.

The communications processor consists of a dual core of ARM9 and DSP with a packet processing accelerator and L1/L2 cache.

The improved ARM architecture brings more room for expansion, leaving room for new features and performance improvements. Marvell's improved and optimized ARM architecture with proprietary intellectual property and full compatibility with ARM instructions brings great convenience to developers of embedded systems.

The triple-core hardware architecture has dedicated modem and application processor cores. Application processors with Marvell Sheeva CPU technology are backward compatible with XScale CPU cores. Based on such an architecture, the platform enables the reuse of the general purpose application processor software stack between multiple air interfaces and handset networks, and prevents harmful interference between the application processor (AP) and the modem separation subsystem. A high-performance internal memory architecture that enables external memory sharing without the additional cost and space overhead of flash and DDR. Using a shared external DDR between the AP and the modem, it has a high-performance, high-efficiency processor internal communication interface and reduces BOM cost. Figure 1 depicts a block diagram of the PXA 920 communications platform.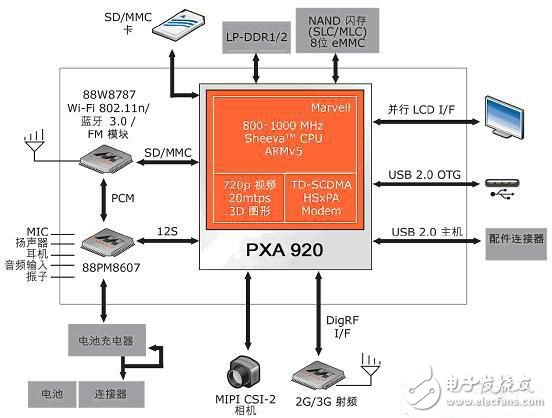 Figure 1: Block diagram of the PXA 920 communications platform.

The terminal transmits data at high speeds up to HSDPA 2.8 Mbps and HSUPA 2.2 Mbps. The handset solution integrates a 3.5G modem and protocol stack to meet the standards of the world's leading carriers. 3G/WLAN/Bluetooth coexistence and support for IMS, VoIP and other advanced services from carriers. Verification through extensive IOT testing, GCF testing and field trial testing in China and transmissions in communication networks.

The Terminal High Speed a€?a€?Transfer Operating System (OS) software platform supports all leading open operating system (OS) software platforms including Linux, Android, OMS and Windows Mobile. Figure 2 is a schematic diagram of the TD smartphone architecture.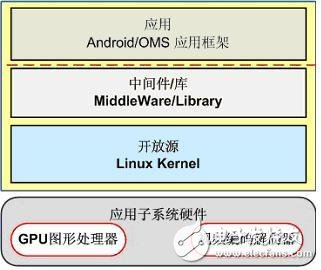 Figure 2: Schematic diagram of the TD smartphone architecture.

Multimedia applications include video, 3D, audio, image and display capabilities. Supports playback of 720p video in H.264, WMV, MPEG-4, H.263 format at 30 fps; captures D1 resolution video in H.264, WMV, MPEG-4, H.263 format at 30 fps; 12 million triangle processing power per second (continuous rate) and 23 million triangles per second (50% rejection rate) 3D graphics capability, integrated 2D accelerator, support for industry standard APIs; unique audio accelerator subsystem for audio streaming Technology for low-power audio playback; support for image sensors, primary and secondary intelligent image sensors for MIPI CSI-2 and parallel interfaces, and support for one MIPI-CSI2 serial interface. The LCD display controller supports an 8/16/18-bit parallel smart panel interface or a parallel LCD display on a 16/18/24-bit parallel active matrix interface via a sync signal. The master/slave display supports up to 4 displays simultaneously stacked, no Changes as well as rotation scaling.

Single-chip structure, including CP and AP. The overall solution's chipset structure includes RF devices, intelligent power management chips, and a few chips such as wireless 801.11n/WiFi/Bluetooth/FM. The streamlined structure enables OEM handset manufacturers to speed up the design process, shorten development cycles, and increase speed to market.

Second, the power consumption is small

Advanced semiconductor technology helps reduce power consumption. The 55nm process saves about 10-20% of power consumption. The TD smart phone thus equipped is easier to be more compact than most mobile phones currently on the market at 65 nanometers. The terminal-specific SoC with built-in application processor and modem eliminates the overhead and lays the foundation for lower power consumption. The number of circuits on the printed board is small, and the typical reference design can be as small as 51X51 mm and the body is thinner. In addition, the power management efficiency is high, so the power consumption of the mobile phone is low.

Improving power management efficiency is key. Power management technology has always been the focus of attention, and the power management PM chip contains a number of patents. The first is to reduce the number of components, configure fewer sets of chips, and focus on reducing the amount of current. With the PXA 920, the universal charging interval is long, the standby time is longer, and the user experience is naturally more satisfactory.

The chip is small in size. Because of the small linewidth and high density, the PXA 920 chip package size is only 12X12 mm. Such a small area not only has the advantage of low power consumption, but also brings design space to the terminal. Users love a thin, stylish look.

Power optimization. At present, from the test of 2G, 3G voice and high-speed data download and upload, the power consumption is quite low. After a series of field tests, the power optimization has reached a level of excellence in the process of submitting engineering samples to mass production.

Third, low cost

The price is reasonable. Targeting the mass market, so that the majority of users can afford it, that is, the price of low-end, high-end smart phones, is the common wish of operators and chip designers. When the cost of smart terminals is greatly reduced, it is the time when Internet data applications go to the public. To produce TD smartphones that ordinary people can afford, they must rely on technological innovation.

The semiconductor process uses 55 nanometer technology. The reduction in line width involves a series of decisions from design to wiring to process line. The newly-invested 12-inch wafer production line in China, from one step at 90 nanometers, across 65 nanometers to 55 nanometers and 40 nanometers, is worth considering cost factors. Future LTE products will be locked at 32 nm and 28 nm. The core of semiconductor technology is to maintain a high level of yield, which requires a wealth of experience and courage. The chip yield per wafer is increased and the cost is reduced.

The BOM is relatively low. After a single chip is highly integrated, the sleeve structure is very compact and the overall number of components is reduced. The PXA 920 processor itself integrates the communications processor and application processor onto the same SoC, leaving fewer chips. The chip sets mainly include RF devices, power management chips, and wireless devices including 802.11n, WiFi, Bluetooth, and FM FM functions.

Such a structure brings about a reduction in cost.

Conclusion

In short, strength is the last word. The reason why TD smartphone manufacturers are willing to adopt Marvell PXA 920 as the core processor is because of its competitiveness, because it brings three characteristics that users prefer, with thinner appearance, higher performance and better price. After a series of rigorous field tests in many cities, the PXA 920 is favored by many mobile phone manufacturers in the industry. In particular, through the testing of brand manufacturers, product performance stability and universality are expected to be higher than the current TD terminal products on the market. The PXA 920 platform allows mobile users to enjoy the enjoyable lifestyle of TD smartphones in an affordable economy.

The Mirror Wire are used for car recorder and car backing radar.

What does our product include?
| | |
| --- | --- |
| 1 | JST wire harness |
| | FH-----0.5mm ZH-----1.5mm |
| | SH-----1.0mm PH-----2.0mm |
| | GH-----1.25mm VH-----3.96mm |
| | EH/XH-----2.5/2.54mm |
| 2 | Molex wire harness |
| | PicoBlade-----1.25mm PicoClasp-----1.0mm |
| | PiciLock------1.0/1.5mm Minifit Jr-----4.2mm |
| | MicoBlade-----2.0mm MicoClasp-----2.0mm |
| | MicoLock-----1.25/2.0mm |
| 3 | IDC flat ribbon cable |
| | Contact material----Copper alloy |
| | Test voltage------500V AC |
| | Current rating-----1A |
| | Cable Technical Data: |
| | Contact Material----Tin plated copper |
| | Isolationswiderstand-->1000M?? |
| | Insulation Resistance-->1000M?? |
| | Temperature range----- -40a??.....105a?? |
| | UL Typ---------UL2651,28AWG |
Mirror Wire

Mirror Wire,Turn Signal Mirror Harness,Mirror Wire Harness,10 Pin Connector Wire Harness

Dongguan YAC Electric Co,. LTD. , https://www.yacenter-cn.com